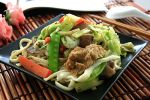 Are you a vegetarian? Well, regardless of whether or not you are a vegetarian, Taiwan's unique vegetarian cuisine is a must-try. Vegetarian cuisine in Taiwan, though includes seasonal vegetables, also has a vast array of soy-based "meat" replications. A few restaurants we suggest are :
Minder Vegetarian
Beiping W. Rd. #3, 2F (15 More Branches) 2361-3566
Minder Vegetarian, like most Taiwanese food shops, sell buffet food by weight. Don't worry if you don't like what they have on that day. Depending on which branch, they also have food you can order. You can try Taiwanese delicacies but if you'd rather not, they also have Western fare not limited to varieties of pasta and pizza. The price is also fairly cheap with all single food orders priced at under 200NT$. For easy access, we suggest their branch at the Breeze Center located on the 2nd floor of Taipei Main Station. You won't be disappointed!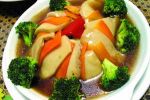 Yang Ming Spring
Yangmingshan, Jingshan Rd. #119-1 (Yangming Shop) 2862-0178 Zhongxiao E. Rd. Sec 4, #98 (Zhongxiao Shop) 8772-1829
Yang Ming Spring has two branches; one located on Yangmingshan and the other located at Zhongxiao. The food crafted at Yang Ming Spring is both creative and delicious. They can make mushroom look like chicken! They not only open for lunch and dinner, you can also have tea there. We suggest a reservation in advance as especially the Zhongxiao branch is usually packed with diners.
Jen Dow Vegetarian Restaurant
Changchun Rd, #353 (B1, Howard Garden Suites Taipei) 2547-4788
Jen Dow Vegetarian Restaurant is open for lunch and dinner and is operated in a buffet-style for a reasonable price. All food served is fresh and there are various stations where you can pick what you want and they will cook it for you. This restaurant is highly recommended and is a must visit. Opening times: Am 11:30 - Pm 2:00 / Pm 5:30 - Pm 9:00.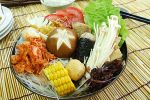 Healthy Kitchen
Zhong Cheng Rd, Sec. 2, Ln. 70, # 16 2834-6345
Healthy Kitchen is a quaint, rustic haven of simple healthy yet delicious food, with a set lunch menu of soup, salad and main course. The dishes change everyday depending on the availability of local fresh fruits & vegetables. If you are seeking a different kind of experience - Healthy Kitchen shows how to keep it simple yet delicious and appetizing. Make sure to buy fresh vegetables & fruits before leaving the restaurant. Lunch NT$ 400 - 500.
Easy House
Tienmu W Rd. # 9, 2F 2874-5967
Set and la carte menu available in English and Chinese. Credit cards accepted, plus 10% service charge.This fine sophisticated vegetarian cuisine, is a must dine for all vegetarians!It has an elaborate vegetarian menu with Hot pots, rice/noodle dishes, vegetable curries, salads, fresh energy drinks & desserts. The food is non oily with some very interesting combinations and unique taste. The thin noodles made Italian style, the mushroompurple rice and the Japanese salad are just a few of the many appetizing choices. Each table has a large carafe of black tea to consume throughout the meal. A meal for 2 NT$ 1000- 1500.