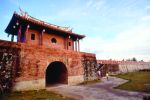 Pingtung County is the southernmost county in Taiwan with the famous Kenting National Park, Eluanbi Lighthouse, beautiful beaches, Dapeng Bay National Scenic Area, hot spring areas, fabulous mountain areas and much more.
The population can be equally divided into aboriginals, people from the southern province of Fujian of mainland China and Hakka. The mountainous areas were very badly hit by the typhoon Morakot, Aug 7 - 9, 2009, killing many and leaving lots of people homeless. Rebuilding, where possible, started soon after and new developments are on their way.
A unique lagoon at least for Taiwan is found in the Dapeng Bay area which provides a habitat for wildlife and offers a wealth of ecological scenery as well as recreational resources. The bay serves as a resort area and together with its mangrove, it is a perfect place for a family outing.
Recently, the Pingtung County government has developed bicycle paths around the county which many people are taking advantage of, both leisurewise and as a transportation tool.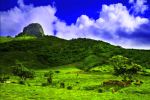 Taiwan's first National Park, Kenting National Park, encompasses both land and sea areas, beaches, rock formations and a fantastic underwater world. The National Museum of Marine Biology and Aquarium is situated in Checheng village, Houwan Rd., # 2. Tel: 08-882 5678, and is the largest marine museum in Asia.
Wax Apple, also called "black pear" and "bell fruit", is a very famous product grown by the farmers in the rich soil in Pingtung. This tropical fruit plays a leading role from an agricultural point of view, with its sales during the four seasons. Another tasty fruit produced in Pingtung is Aiwen Mango, of which the season falls between April and June.