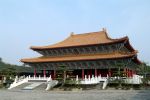 Jiaming Lake, in Yushan National Park, is open after a yearlong restoration due to a major typhoon Morakot who hit Taiwan in August 2009. The oval lake, with sapphire water, has a rich wildlife and the trail has been fully repaired. The numbers of visitors are limited to 70 per day. People interested to visit the lake can apply online to Taitung District office, http://recreation.forest.gov.tw
Kaohsiung Fishermen's Wharf, at the end of Cisian Rd. was created out of an old and empty warehouse and offers today a romantic surrounding for café's, pubs and small restaurants.
Kaohsiung Museum of Fine Arts, Art Gallery Rd, # 80, open in 1994 and is since then the place to go to for local as well as international art exhibitions. The outdoor sculpture along with the vast flora and water fowls ecosystem in the nearby Neiweipi Ecological District provides a unique atmosphere for tourists and residents.
The Kaoshiung Museum of History, next to Love River, Jhongjheng 4th Rd. # 272, built in 1938, served as a police station during the Japanese occupation (1895-1945). Besides showcasing the history of the port city, it also has on display items from other museums, including Taipei's famed National Palace Museum.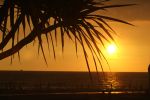 Liouhe Tourist Night Market, Liouhe 2nd Rd., exit 11 at the KRTC Formosa Boulevard Station, was awarded as number 1 favorite night market among foreign tourists. Day time this is a traffic street that converts into a market by night with good dining, street artists and shopping.
Rueifeng Night Market, Yucheng 2nd Rd., exit 1 at the KRTC Kaohsiung Arena Station, established by the private sector and has become the largest and hottest night market for shopping in town. Open: Tues, Thurs - Sundays 6.00 pm - 12.00 pm midnight.
Head to the city's largest wholesale market - located in an old shopping area on Sanfonszon St. near Jianguo Third Rd. - for a truly Taiwanese experience. There, among the hustle and bustle of determined shoppers, take a gander at the fresh fruit and vegetables, fresh meat and seafood and much much more.
Dream Mall, Jhonghua 5th Rd. in the east and Chenggong Rd. in the west, is the first shopping mall in the southern part of Taiwan that hostess a cinema, theme park and restaurants.