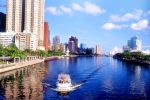 Kaohsiung - the second largest city in Taiwan - is situated in southern Taiwan. The population is 1.5 million with a total of 4 million in the environs. The city has made great efforts to green itself, a noble effort given that it has the highest concentration of motorcycles - 1.15 million - of any city on the island.
The first-class port - it ranks eighth in the world - accommodates vessels up to 100,000 tons. The True Love Port, located where the Love River and ocean meet, has two landmarks: two sailing boats - one facing the ocean, the other the city. Tour boats, which run daily from 4:00 pm to 11:00 pm (head to Jhongjheng Bridge on Jhongjheng Fifth Rd.), offer a lovely experience of the beautiful parks, and riverfront cafés and restaurants.
In every big city there is an international school - being the only one in the southern part of Taiwan - Kaohsiung American School, established in 1989 is a private, on-profit pre-K through grade 12 college preparatory school, accredited by the Western Association of Schools and Colleges. KAS has a multi-cultural perspective with a safe, caring and upportive environment with 460 students. The school has been accredited to teach the IB Diploma Programme beginning in August 2010.