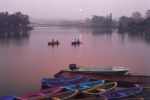 Tainan - the former capital of Taiwan - has long played an important role in the island's history. In 1624, the Dutch established Fort Zeelandia in Anping - the oldest part of the city.
The famous Anping Tree House was originally a Tait & Co. warehouse. Both the fort and house are open daily 9:00 am to 5:00 pm. In addition, there are more than 200 temples and numerous shrines in the city and surrounding countryside.
Tainan is considered to be more "traditional" and Taiwanese dialect is widely spoken. Tainan is also known for its culinary traditions with delicious food and snacks. One well-known treat is Tainan's famous "coffin bread." Each loaf is shaped like a coffin, and filled with meat and innards. Another specialty is dan-zai noodles - a favorite of poor fisherman. Yellow noodles are served with meatballs at hectic stalls replete with bamboo stools and tables with overhanging lanterns. The ambience is truly unique and makes for a great photo opportunity.
That said, Tainan also has its share of new hotels, modern department stores and the most fashionable boutiques. Shopping can also be enjoyed in several traditional arts and craft establishments. Beimen Street, for example, is "computer street."
As the soil is not suitable for agriculture, Tainan natives have long turned to the sea. Tainan's milkfish is known nationwide and numerous fish farms have been established in the area. New agricultural techniques and improved irrigation, however, have enabled farmers in the area to grow sugarcane, vegetables and various grains as well as the famed muskmelon.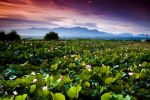 Finally, Tainan is home to advanced technology. The Tainan Technology Industrial Park is the center of green technology and the park is right next to a wildlife reserve with bird-watching decks. In fact, the beautiful coastline's mangrove swamps play host to 20 endangered species of migratory birds, as well as more than half of Taiwan's more than 400 species.