Xin-Yi District, Taipei
Grant and Eric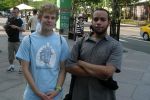 Grant, from Belize, and Eric, from the United States, are both 24 years old. Grant is here for 8 days while Eric is only staying for 4. They have visited Wulai and found their favorite foods to be bubble tea and Cantonese dim sum. They purchased Taiwanese tea as souvenirs. Even though Eric states that he expected Taiwan to be more like Tokyo and Beijing, he likes Taiwan very much and is surprised that it is smaller and much cleaner.
Mr. Lin and Mr. Chen
Mr. Lin and Mr. Chen are in their 40s and are traveling with a tour group from Zhejiang, China. They favorite site in Taiwan would be the Sun Moon Lake, where they tried the local barbeque and loved it. Their image of Taiwan is that the people are friendly and the service is beyond their expectations. On their last day of their stay, they bought local souvenirs such as pineapple cakes and exclaimed that they would like to visit in the near future.