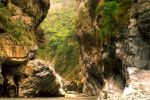 Hualien is the biggest county in Taiwan. It is situated on the mountainous eastern coast of the island. The population is about 340,000, of which one-fourth are aborigines: Ami, Atayal, Bunun, Truku, Sakizaya and Kavalan.
Hualien city is the capital, with its central area around Jhonghua Rd., Jhongshan Rd. and Jhongjhend Rd. This is where you find nice shopping and fine dining. Sticky Rice Cakes (Mochi) is a specialty of Hualien which is easily found here.
Stone Art Street is located in the city with many vendors happy to show and sell you some of their locally quarried Fongtian jade and rhodonite pieces. Prices are reasonable. Aboriginal dances are held here nightly at 8.10pm. Stone Sculpture Park is an outdoor venue for stone art. In Hualien County as well is the Hualien County Stone Sculpture Museum, with inside a display of traditional stone carvings and outside more modern sculptures by both local and international artists.
Hualien Distillery, with a stylish garden, is situated within the city and open to the public.
The main attraction of Hualien is Taroko National Park with its gorge. Hualien Airport is close by, which makes it possible for visitors to return to Taipei within the day. Taroko Gorge is the centerpiece of the park and is a MUST for all visitors to Taiwan. The "inner gorge" from Taroko to Tiansiang is composed primarily of marble and has vertical walls. The "outer gorge" runs west from Tiansiang and is made up largely of schist, which has formed a V-shaped valley.
Within the territory there are 27 tall mountains, forming a magnificent natural ecosystem, with the tallest peak Great Nanhu Mountain.
The foggy Wuhe platform is an ideal environment for tea plantation, which produces a variety of different teas. More unique to Taiwan are the coffee plantations which grow Arabica coffee.
With such a long coastline, all kinds of water activities are available including surfing, fishing, swimming, yachting and whale watching trips. There is also the Hualien Ocean Park, designed to fit into the natural landscape and including a hotel, bird park, greenhouse, palm tree garden, tropical rain forest and more.