An interesting area, from many points of view, is along ZhongXiao East Rd. - between Fuxing South Rd., and Dunhua South Rd.
From a shopping prospective there are big department stores - with everything from clothes, gift items to food courts - to small private businesses offering anything and everything. And we re talking very small shopfronts; sometimes it's more like a "hole in the wall" however they can have very good offers.
Go to the lanes and alleys away from the wide boulevards and a new world will open up. Some shops with well-known brand names are hidden here for you to discover. Moreover, this is the place here many unique shops are situated along with quaint restaurants with excellent food and service. The language might be a problem, but with some imagination and willingness to explore Taiwan you will have a nice lunch or dinner.
From an architectural point of view there are many different styles - from the old to the ultra modern - including small gardens in front of shops, temples, parks and busy wet markets.
The highlight this time of the year in the subtropical part of the world is the Cherry blossom. Yang Ming Mountain, or Yangmingshan National Park is the most flourishing park during the flower season with many different flowers, among them are: azalea, cherry, peony, tea etc. The park is now covered in pink, white, red and purple colors.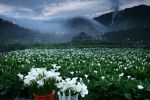 The best way to enter the park is to take public buses to the mountain; # 260, S15, S16, S17, S18, S19, Red 5 from Jiantan MRT station and # 535 from Shipai MRT station. Taking the bus # 612 from Taipei 101 and you will end up on the other side of Yang Ming Mountain, entering the area via Hsing Yi Rd. The trip will take one hour and cost you NT$30 with the last 15 minutes ewarding you with beautiful blooming flowers along the way.