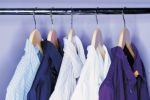 Window shopping is one way of knowing more about a city. A fantastic area to do so is around Zongxia/ Dunhua intersection. The area is full of life and happenings. Make sure not to miss out on the small lanes and alleys, that's were the treasures can be find. The shops normally opens about 11.00am, but for the excitement wait until after lunch and even better early evening, and not to worry they are open until late night.
Other areas to explore are - Guang Hua Digital Plaza, Jinshan North Road, # 77, Civic Blvd. / BaDe Rd., open 9.00 am - 10.00 pm daily, is a building filled with computer equipment and other electronic gadgets. Prices are reasonable but you may bargain. English is rarely spoken and care must be taken as systems may not be compatible globally. For the camera gear check out "Camera Street", Han Kou St. Sec. 1, near Taipei Main Station.
For the young and trendy items Ximending, near Taipei Train Station and Wu Fen Pu, close to Houshanpi MRT Station, is popular. An underground shopping mall at Taipei Main Station, close to the Y exits, which will also take you into the QSquare shopping mall.
Jade and Flower Market, open Saturday and Sunday 10:00 am - 5:00 pm. Quality varies considerably and prices are subject to the bargainer's skill. Antique Market, Xinsheng North Rd. / Civic Blvd., open 10.30 am - 5.00 pm Tuesday - Friday, is an outdoor market along the street with small tables set up, negotiate the price. Shilin Night Market at Jiantan MRT Station, Rao He Night Market - one of the oldest night markets close to Houshanpi MRT Station, and Gong Guan Night Market at the MRT Station with the same name, just to mention a few, be prepared to hit the crowd.
The bigger department stores in Taiwan are: Sogo, Mitsukoshi,Far Eastern and in Taipei there are also: Taipei 101, Bellavita, Takashimaya and the latest among them all Hankyu in the Xinyi area and Momo in the Songshan district. Eslite Bookstore can also be considered as one. Tiawan Handicraft Promotion Center, Hsu Chou Rd. corner of Zhong Shan S Rd., is a government sponsored store that offers a wide selection of Chinese handicrafts. Open 9.00 am - 5.30 pm daily. English is well spoken.